A Big Fantastic Triathlon Season
by Kim Arline
For my third season in triathlon, I was able to go big and fantastic!  Now that doesn't mean my results were big and fantastic, but the races I was able to compete in definitely met that description.  I knocked off three bucket list races in 2015, but the more really cool triathlons I get to experience, the longer my list of "someday I want to do that" list grows!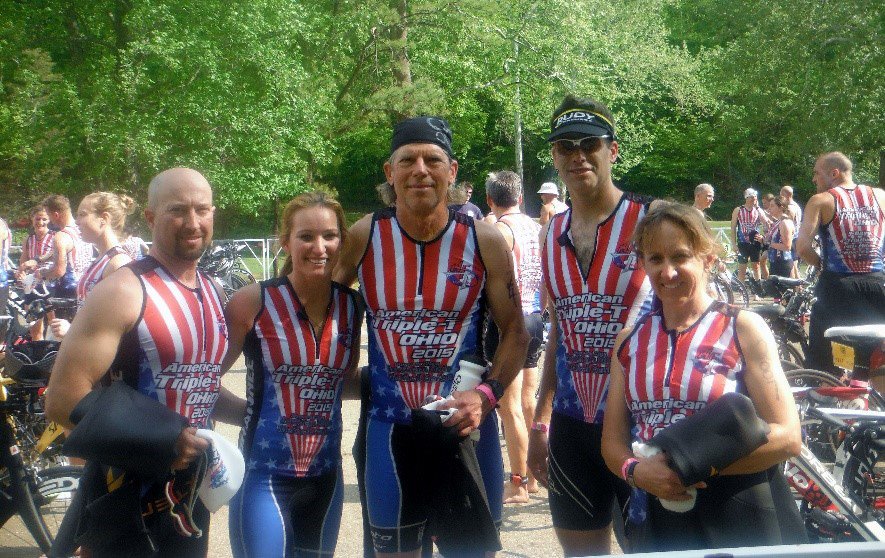 I opened the season big with the American Triple T in the Little Smoky Mountains in Southern Ohio.  Triathlon magazine just listed this as one of ten bucket list races to check out!  I can thank Michael Orendorff and Gwen Steves for planting the seed and planning the fun RV trip for seven of us to this cultish event with four triathlons over three days that total 140.6 miles.  It's a pretty neat venue getting to know the same athletes near you in transition for each subsequent race, hear their stories at the food tent or the campground shower building.  All competitors in the Triple T wear the same red, white and blue race jersey for all events – yes, they too went in the shower after each race!  The final race on Sunday is a 70.3 distance open to new competitors in their own clothing.  Most of them cheered us on when they saw our TT jersey going by.  It felt pretty good to pass those folks knowing they had fresh legs and we'd already covered the distance in three previous races.  (Photo is Justin and Gwen Steves, Michael Orendorff, Gwen's brother Grant Drummond, Kim Arline)
Triple T is normally a tough weekend but made even more difficult with pouring rain for the two Olympic distance races on Saturday. As I swam I couldn't figure out why the water looked so strange until I passed a life guard hunkered down under a poncho on a paddle board. Then I noticed the pouring rain and how the water droplets were going UP in front of my eyes with each breath.  Thankfully there was no lightning all weekend, just a TON of rain and lush, green forests to ride and run through.  As I came into T1, I found a shallow river flowing through my transition area during the first race.  I opted out of wearing the socks floating away.  I've done a triathlon before in bare feet but not bare soaking feet with new inserts in my bike shoes.  The inside area of my arches on both feet were destroyed.  With two more races to go, the only thing I could do was put a layer of superglue over the open wounds and hope for the best. 
The soaking roads and mild temperature softened our rubber tires and there appeared to be at least a 40% flat tire rate on Saturday.  Three of the five of us racing got flat tires.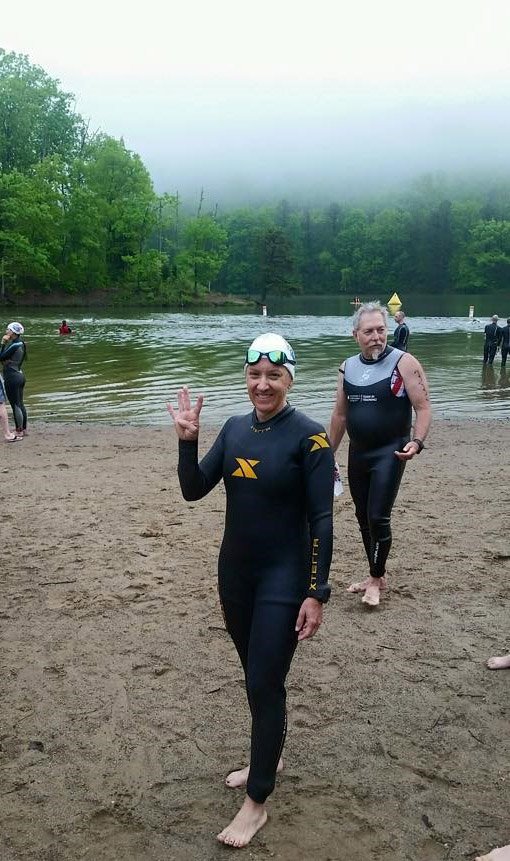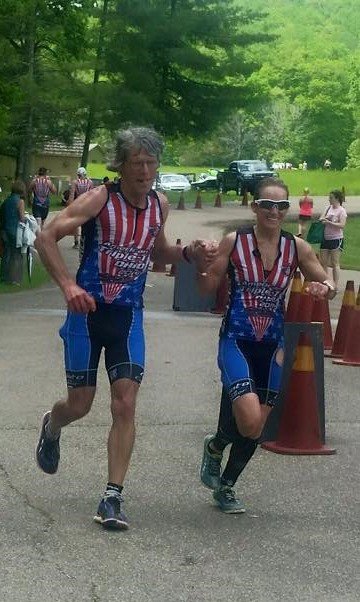 With little race support on the course, it was a bit like Survivor triathlon getting by on the good graces of other competitors sharing equipment along the way.  I finished race 3 in the most incredible pouring rain and sat in the food tent with others wondering if it would ever let up for the 2 mile bike ride back to the campground.  Gwen and Michael were my saviors showing up in that silver HHR to retrieve me!  I told them I wasn't racing in the rain again and I meant it with 85% chance of heavy thunderstorms predicted the next day! 
Overnight I heard the rain on and off on the RV rooftop.  I started to accept my race was over and my feet appreciated it.  But we awoke to the Smoky Mountains in full effect with low hanging clouds and the updated forecast had no rain predicted.  Well, I've always wanted to ride my bike in the Smoky Mountains so I had to swim first and then ride a beautiful, very hilly 59 miles, yes, I went off course with maybe 50 others to repeat the hardest climb of the weekend!  After the first 20 miles my feet gave up complaining and I just loved the ride! I figured it would be easier to run the hilly "brutal spawn of Satan" 13.1 mile course than explain to Gwen why I DNF'd so off I went out of T2.  On the out and back times two run course, I came across Michael O and Gwen and learned she crashed and tore herself up a bit when their tires clipped as he veered left to follow arrows from the previous day's course (same reason I went off course).  I'm sure glad I pushed on to finish when Gwen was injured but pushing hard for a 3rd place overall coed team podium finish with Michael!
After my feet healed from the Triple T, I changed gears and started training for Xterra races.  Xterra triathlons are roughly Olympic distance races but the mountain biking takes much longer than a similar road bike distance and the 4-6.5 mile trail run usually involves heading straight up a mountain. 
Since I haven't convinced any locals to join me in Xterra YET, I asked an old college roommate living in Vail Valley to race the Beaver Creek Xterra Mountain Region Championship with me.  She and her husband and her friend Carrie all had a blast at the Beaver Creek race.  I was enjoying the downhill switchbacks so much on the mountain bike I missed a turn and kept going downhill a pretty good distance.  I was off course probably 13 minutes but I truly was having the time of my life and I didn't care one bit about the results!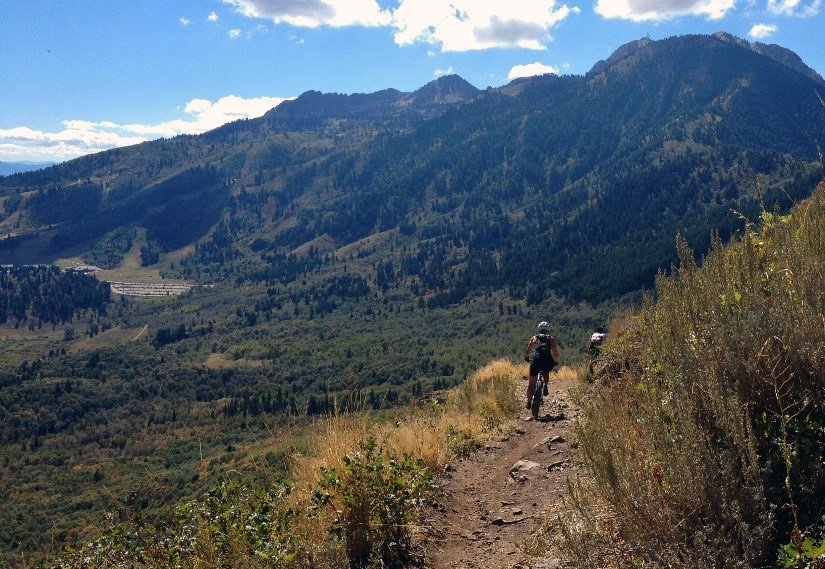 The top ten in each age group at an Xterra Championship race get a slot to Nationals in Ogden, UT in September and the top two in my age group get a Worlds slot.  But Nationals was my goal for the season so all nine of us finishers got a slot.  You see, not many women do Xterra, maybe most women my age must have a healthier respect for gravity or something.  I also placed first in my age group at Buffalo Creek Xterra so that also gave me a Nationals slot. My new friend, Carrie, and I took a road trip together to Ogden but snow and wet trail conditions kept anyone from riding the course until the day before the race.  Another challenge with Xterra is you need to ride the bike course prior to going all out in the race so we took it easy and rode the top 2/3 of the course the morning before.  It was a beautiful ride through a narrow slot canyon up from the lake, into red and orange oak trees, nice mountain views of the ski area and even a view the Great Salt Lake! 
Xterra championship races always have a few pros giving casual talks at the Expo packet pick up. We heard from the two that went on to become the American Champions.  And Xterra hosted an amazing dinner free to athletes with an award ceremony for athletes winning the regional championship races and the points rankings in each region. You sure get a lot of value for your dollar in the Xterra races! 
I managed to stay on course, keep the rubber side down and finish Nationals unscathed!  I was one of two athletes in a group of 12 from the Vail area that did NOT crash that day.  The mountain biking is intense, you ride faster than you ever imagine you would, people are constantly passing on a narrow trail and it's a wonder we're all ok at the finish line.  I normally don't get nervous about races but Xterra definitely ramps up the concern level. 
Right before Nationals, my friend Carrie had just been offered a roll down slot to the World Championship in Maui and she was going for it!  I met another woman in my age group on the run at Nationals that finished just ahead of me and Carrie at Beaver Creek. She mentioned she was still considering if she'd go to Maui or not.  She turned down the slot (it is expensive travel to Hawaii and the race fee is up there too!) and it rolled down to me a few weeks later! I got into the World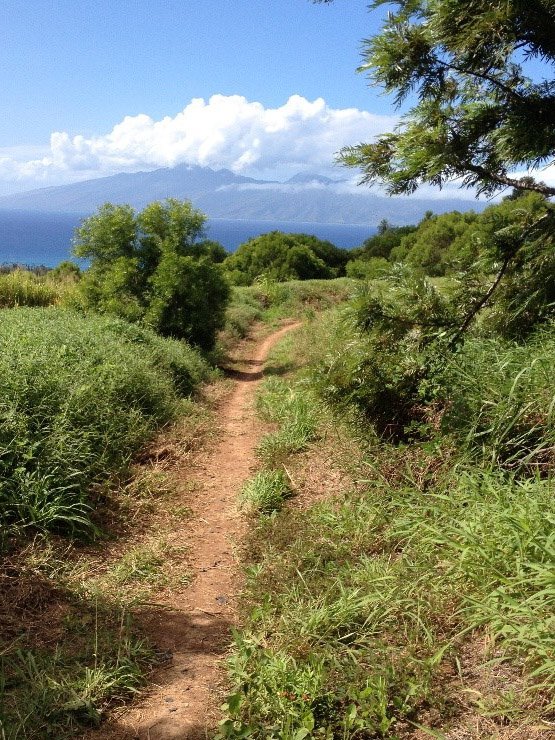 Championship race and had a friend going!  How could I pass it up?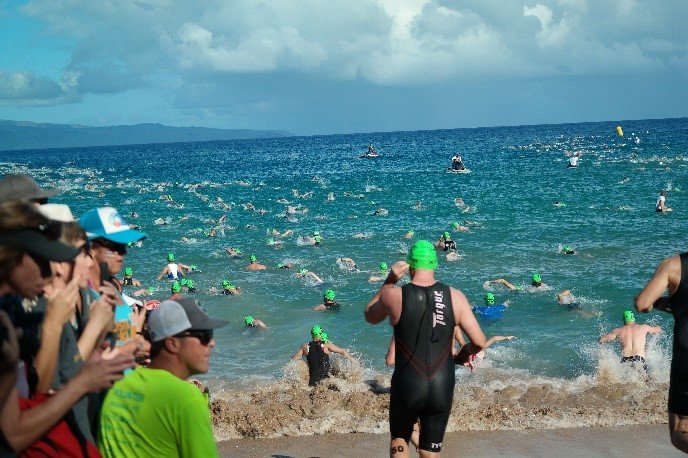 I did feel a bit like a fraud competing on such a tough level but I honestly just wanted to experience the gorgeous course I saw in Xterra videos and photos!  I was quite intimidated by the rough surf swim with two beach entries but figured that bike and run course were worth it!   If you saw me at the pool practicing you might have thought, "Well, she really hit her head this time!" as I dove to the bottom of the pool, pushed off and sprinted and repeated as I readied myself for diving under the ocean waves.  I asked others in Ogden if the water was nice once past the breaking waves and heard "it's a washing machine out there."  So I practiced treading water and moving forward in case I had any mishaps.  I needed more confidence swimming without a wetsuit in open water, in the ocean with who knows what else out there!  And I found it! I finally learned to relax more swimming!  I've worked on that for three years since I swam my first pool length, and treading water and duck dives (I don't think I ever mastered graceful dolphin diving) to the bottom helped me relax and float better.  Go figure!
The trip to Maui was beyond my wildest dreams – it was perfect in so many ways!  It was a much needed, relaxing romantic getaway for my husband and me.  As I pre-rode the mountain bike course on a former overgrown pineapple plantation up into the West Maui mountains, I looked out across the water to another island, Molokai, and was just thankful and savored the incredible good fortune of things falling into place allowing me to be there in that moment – mountain biking in Maui!  How lucky is that?  As I descended the fun, banking turns toward the Kapalua golf course I kept hearing noises in the forest.  I told myself it was just a squirrel but imagine my shock as I came around a blind corner to four black wild hogs with huge tusks just feet in front of me!  Luckily my scream kept them going in the opposite direction!
The Xterra World Championship race in Maui November 1st was by far the most fun I've had in triathlon, actually in any athletic event! I met fun, friendly athletes from all over the world with 43 nations competing.  The pros gave us classes and were so friendly and helpful running into them on the beach, the bike course or at the hotel.  Xterra is a really cool breed of athletes!  Fortunately the rough surf settled a day after my arrival and we had a great swim while the forecasted big waves swung around five miles north and the other side of the island.
The 20-mile mountain bike course is brutal with two 3.5 mile climbs with steep sections that made it hard to keep the front end down. I heard about a volcanic ash that can be slippery wet or dry.  Brandon Rakita, a pro in Colorado Springs couldn't describe it but said, "You'll know if when you feel it" and I sure did!  Despite dry conditions the few days leading up to the race, the course mud patches were actually more slick race day with a few hundred people ahead of me.  The steep climbs were tougher than any I've seen in Colorado but the downhills were just too much fun! My spill came later, lower on the course when I hit a patch of sand and nice man from Bath, England helped me untangle myself from my bike! But I was in good company, both pros that won also fell!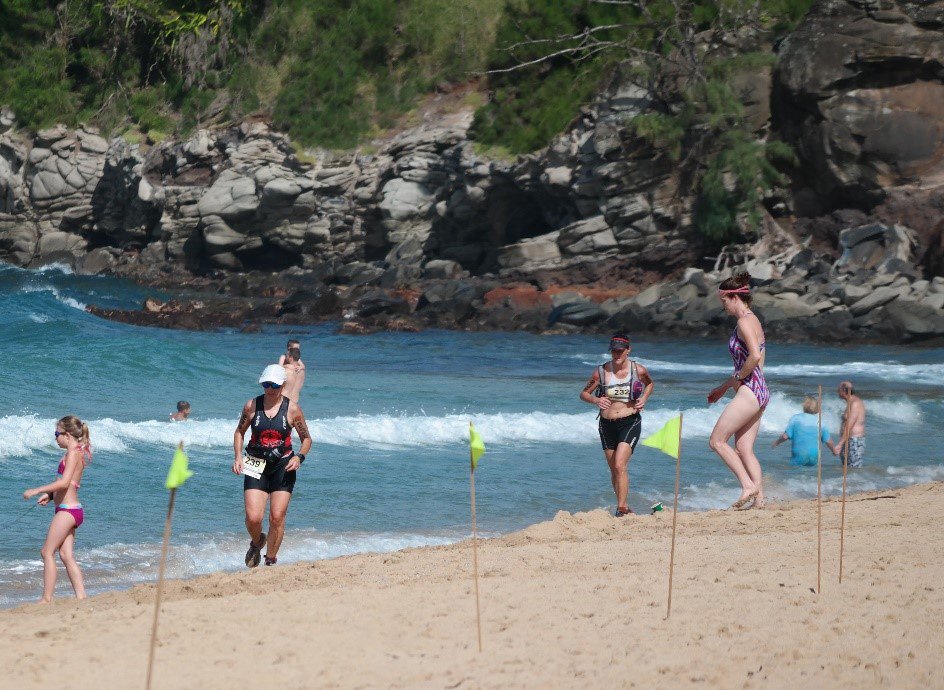 The run course was a blast with built in obstacles with down trees, low branches so it involved ducking under and climbing over quite a few trees and rocks on fun single track.  The run finished with a quarter mile run across DT Fleming beach where the race started.  I savored each moment competing on a gorgeous, very challenging, yet fun course.  The Ritz Carlton venue was perfect, the discounts Xterra negotiated for athletes made it almost reasonable and incredibly convenient for athletes and family members watching. 
So somehow I ended even bigger than I started this season.  This race was truly amazing, I would love to race Maui again someday. But now I've seen pictures of so many other gorgeous, challenging Xterra races in the World Tour, the list of bucket list of races I hope to compete in some day is long! 
So does anyone want to come out and play with me in the Xterra world now?