Ironman Los Cabos – 3/30/14
By Kim Arline, April 2014
In August 2013, I started planning our trip to Cabo San Lucas for Spring Break the following March.  My son has wanted to fish in the Sea of Cortez for years with plans of catching a huge dorado.  Part of planning any trip I take includes checking race calendars in the area for events I might be able to hit while in a new location.  I had just completed my fourth triathlon, the Boulder ½ Ironman and thought it wasn't too bad.  I knew if I ever did a full Ironman, it had to be in a pretty place so I was jazzed to find Ironman Los Cabos fell on the last day of our Spring Break! 
My husband wasn't excited about me doing an Ironman in Mexico on dangerous roads.  I convinced him the course was safe with a three loop out and back on the highway between two major resort towns with all motor vehicle traffic on the other side of the highway median.  The run course would also be an out and back three times in the resort area of San Jose del Cabo.  When I registered there was a big "flat, fast bike course" banner on the top of the race website which was changed to "flatter, faster bike course" within weeks of registering.  A couple months later the elevation profile posted on their facebook page showed it was anything but flat, in fact my Garmin showed 6200 feet of climbing!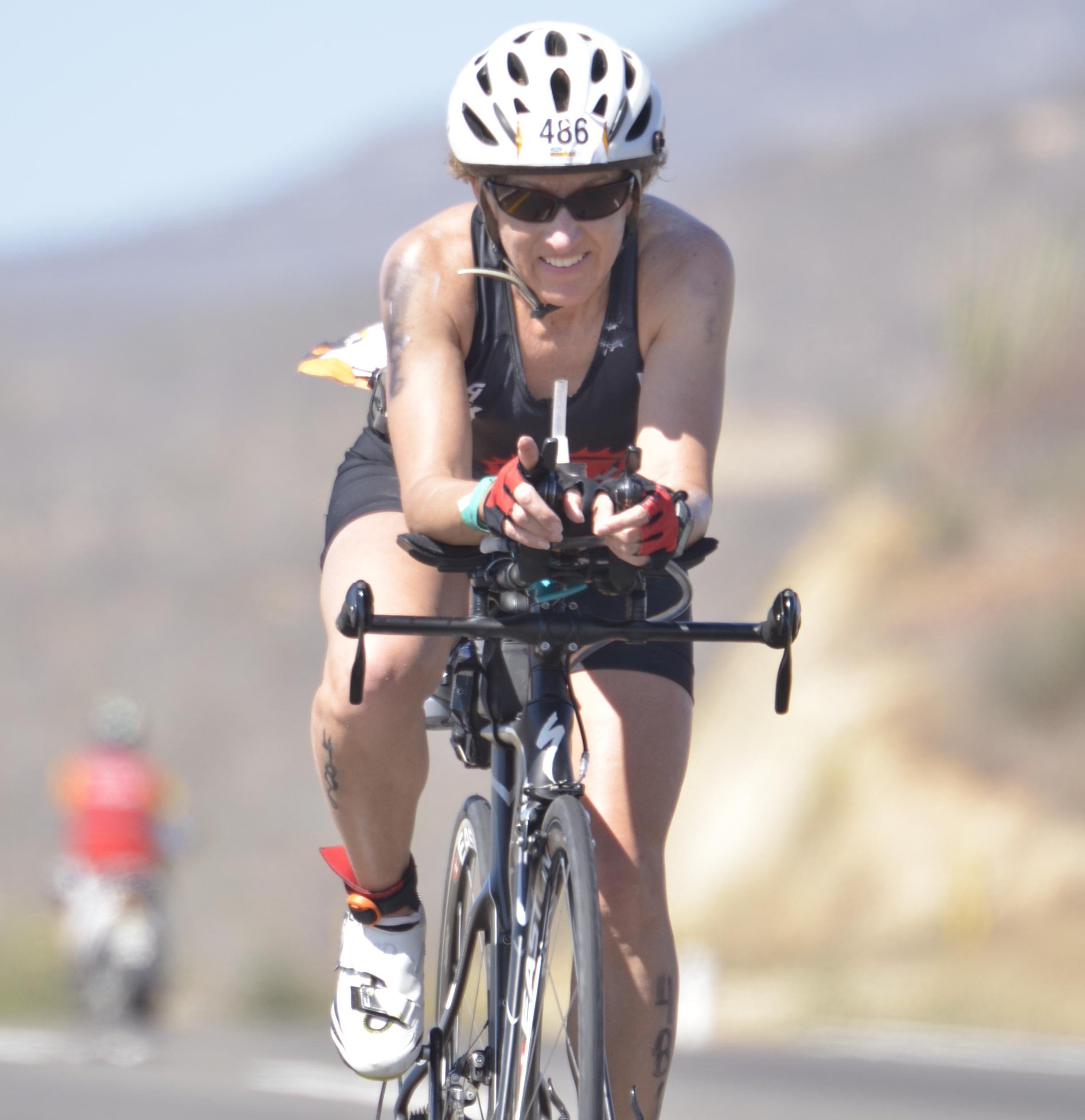 As a beginner triathlete, I had a lot to learn but first made a smart investment in a Tri bike I absolutely love!  My neck and shoulders have never been so comfortable on a bicycle! With such an early season timeframe, I knew I would be training for this event alone, with lots of long, cold, winter days on the trainer which was good training for the heat race day.  And when I could get outside, I had a lot of windy rides which also came in handy race day.  Members of our SoCo Tri club and Pikes Peak Tri Club were amazing resources and encouraged me every step along the way.
I was inspired by the tranquil looking swim in the Sea of Cortez shown on the website.  Two days before the race I shared a ride to the swim venue with some Mexican national 9 time IMers and they explained every Ironman website lies about the course.  I saw what they meant when I got tossed around at the practice swim in choppy, dark water – it was a real wake up call and made me wonder what I had gotten myself into.  But I met so many nice and encouraging people including a man competing in his 168th Ironman (has already done #169 in the time I've been recovering), a 73 year old woman doing her 8th IM and I even got to sit next to a pro on the shuttle bus hauling our bikes to T1 the day before the race.  What sport do total amateurs hang out with the pros and just talk?
Race day started out great, had a few minor blips but overall was great to the end!  The shuttle bus dropped us off and we walked down to T1 with a dark sky filled with stars, the palm trees gently swayed in the breeze and as the sun rose, I could see the sea was gently rolling and the sandy bottom was visible through the turquoise water!  The race was wet suit legal which was a relief to a weak swimmer like me.  The swim to the first buoy involved some jostling even though I started toward the back of the beach start. But after turning for the longest stretch I started noticing bright flashes of neon blue in the water below.  I had read about harmless blue jellyfish so I tucked my chin to my chest where the light caught the jellyfish just right and made them glow like tiny stars below.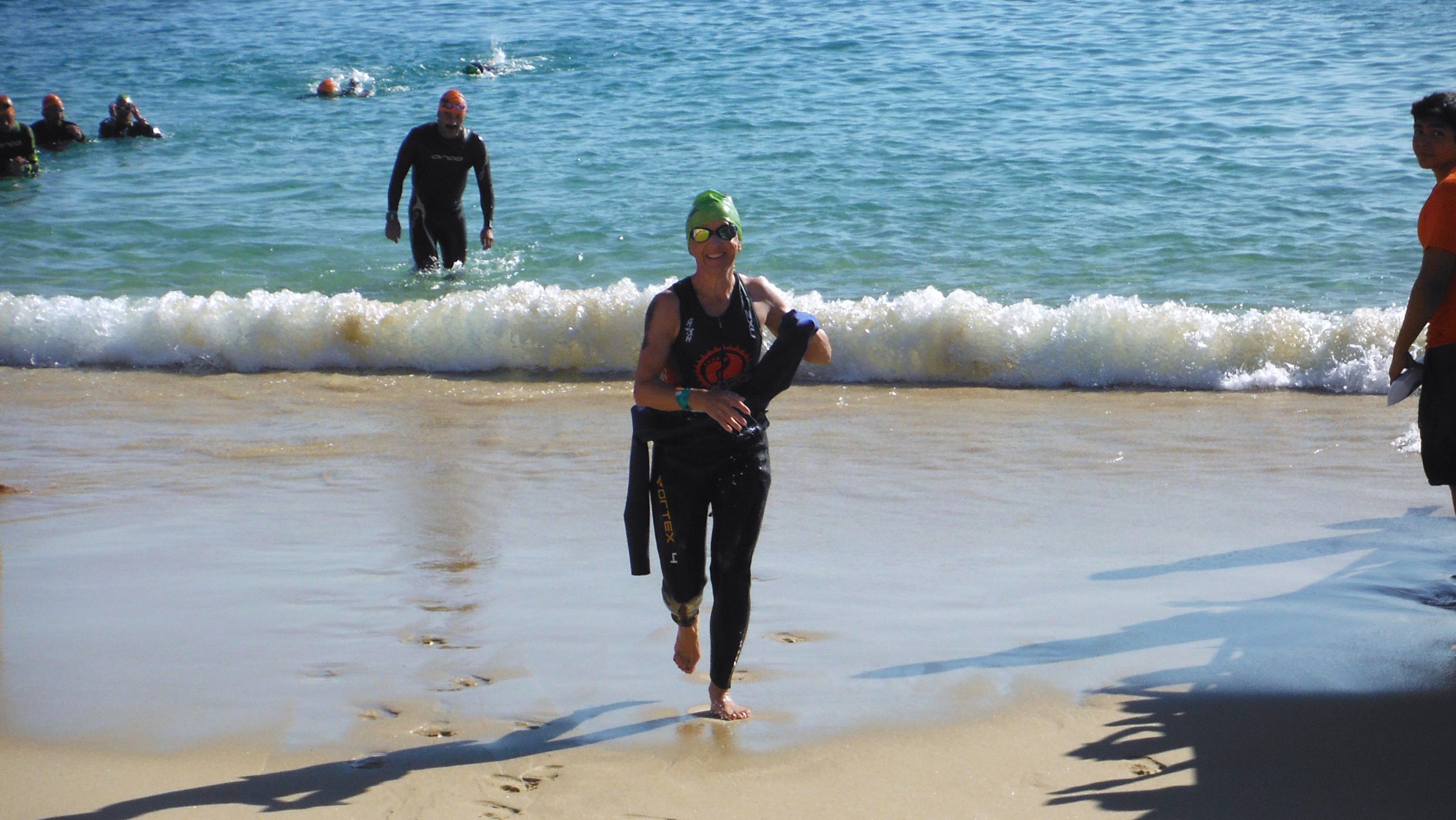 As I hit the beach and saw my swim time was 18 minutes faster than any pool swim IM distance I had done, I knew I would be an Ironman that day barring any mechanical problems on the bike!  I had to bite my tongue because I wanted to tell everyone, "I'm going to be an Ironman today!"  Only 2.4 miles into 140.6 miles might be a bit soon to celebrate but the hard part was over in my mind!
I flew through T1 and up the steep hill from the beach to Highway 1 to head 15 miles south to Cabo San Lucas to loop back 19 miles to San Jose del Cabo.  The highway had spectators alongside, on the median and every underpass had a crowd of locals and visitors playing music and yelling, "Vamos Amiga!" or "Vamos Chica."   I felt like a rock star!
The wind and heat picked up on the second and third loop but the hills weren't unbearable (might help coming from Colorado and lots of hill repeats in my training) and the descents were fast often carrying me half way up the next hill. We flew down through an historic part of San Jose del Cabo to T2 – the only place we had some speed bumps to ride over.  Leading up to the race that week, highway crews were out removing bumps on the highway so there were only a couple short sections of highway that weren't smooth. The local government truly embraced this race and made every effort to safely accommodate us.
As I headed out on the run the sun was beating down on the first 9-mile lap. But I found bits of shade from palm trees along the edges of the road and could get more high fives from the energetic crowd in the resort areas.  The course included a run across a long bridge to a soft surface trail around a new marina with big boats and neat artwork.  I sure enjoyed the sunset that evening crossing back to the city for my final lap!  I didn't pack a headlamp for finishing the run in the dark but the coming darkness was a relief from the 90 degree heat that day.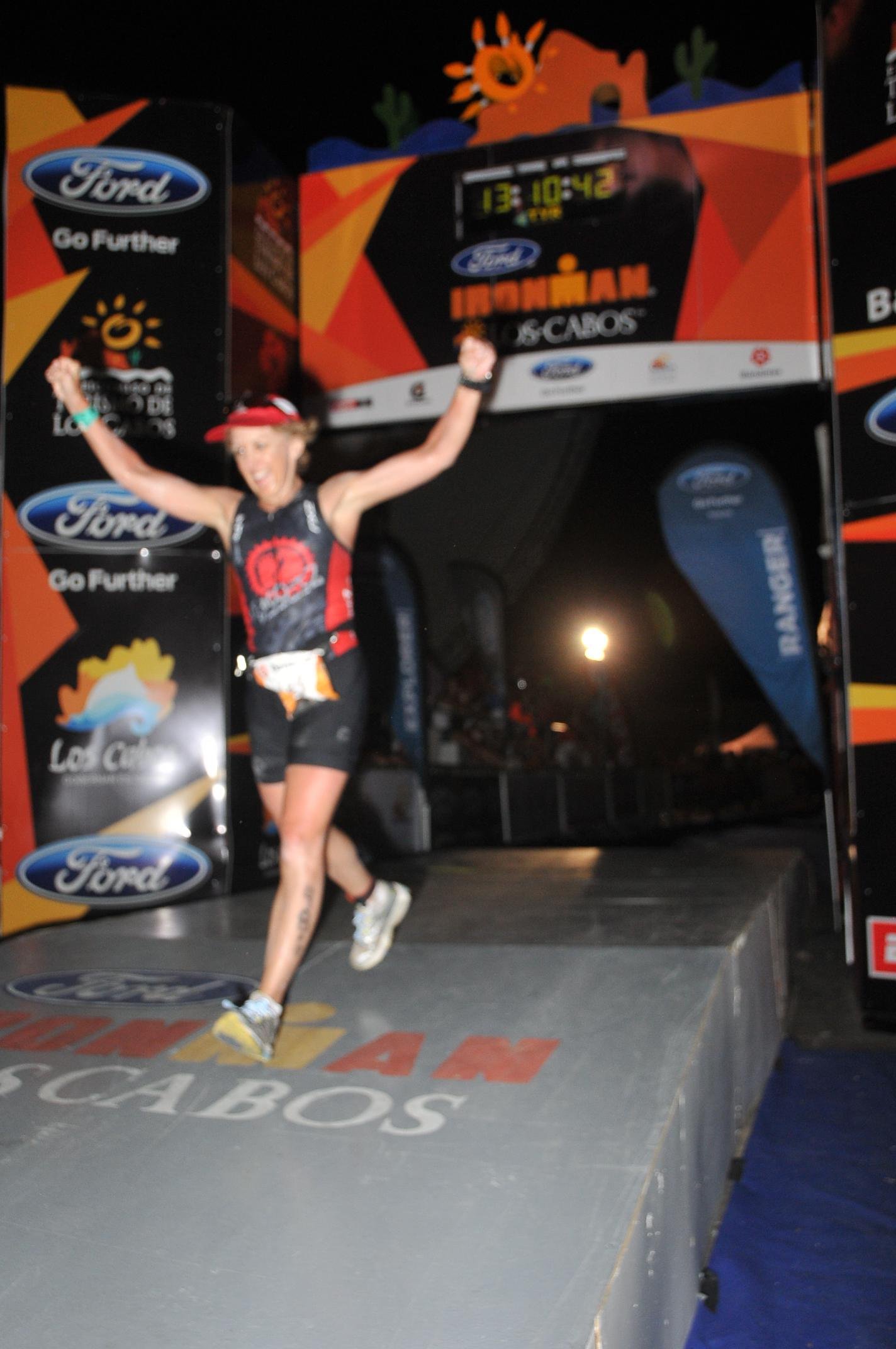 Since I had never completed 140.6 miles before, I had no expectations going into this race other than hoping to finish, enjoying the moment and swimming, biking or running the mile I was on.  My Garmin settings told me when to eat, drink or take electrolytes and I only looked at it three times for time and mileage.  I went by how I felt and truly enjoyed a beautiful, scenic course and energetic crowd.  I crossed the finish line 10th in my age group in 13:10:41 still feeling pretty good with the exception of very sore, wet feet and sun burned forearms and back. 
The following morning I got to relive my race as I read all the Facebook posts from the night before as those of you here watched my results coming in live.  It was pretty cool to see the numbers side of the race through your eyes.  I was just focused on my own personal journey the day before.  Thank you for all your kind words and encouragement before, during and after the race!
I seriously NEVER thought I would describe an Ironman race as fun.  Challenging, rewarding, difficult – yes!  But fun?  Not a chance.  But IM Los Cabos was an amazing race venue, beautiful course with friendly participants from 49 different countries and great local support. I had a blast! Will I do another Ironman?  I sure hope so!  I rarely repeat races but I might go back to Cabo some day after I check off a couple more bucket list races!  If you are shopping for a Kona slot friendly race, this might be it.  Only 871 of us finished and there were 50 Kona slots up for grabs.  If you are strong on a hilly bike course, this might be your race!  They moved the 2015 race to October 25th so more North American athletes have a longer training season to get ready.