Physical trials of an athletic odyssey
By Gary Franchi
August 14, 2013
Well, nobody said life was easy. And that certainly applies to some of these crazy endurance events that all of us choose to attempt, whether it's running Pikes Peak, a tough marathon, 24-hour pinochle tournament, an ultra, Ironman – whatever.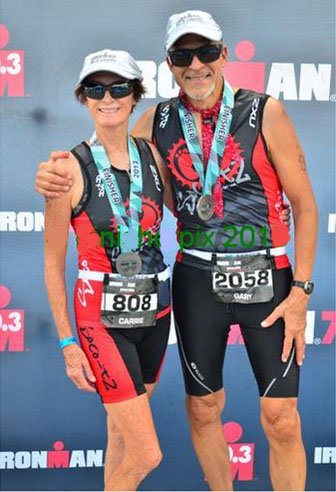 The choice for Carrie and me for 2013 was the Boulder Triathlon Series, which included a sprint Tri in June, an Olympic-distance Tri in July and a Half-Ironman in August. What motivated me, besides losing all common sense, was a turnaround 2012 that followed several years of physical woes that had included an Achilles injury in 2009, needing 3 gel shots in my arthritic right knee in 2011, and a persistent arthritic toe that – after a decade of pain, co-pays, surgery and juggling incessantly with different insole combinations – finally got a cortisone shot that worked. (This is what some of you young folks have to look forward to when you hit 6 decades of life on Planet Earth.)
In 2012, I was pumped to do things I hadn't tried in years – an Olympic-distance Tri (Boulder Peak) that I hadn't attempted since the old Drag'n On In Tri was held in Pueblo, plus the Garden of the Gods 10M run that I hadn't been healthy enough to attempt in recent years. While my time in the Garden wasn't great (10:44 pace, if I recall correctly), it was an uplifting victory to run a really hard up-and-down 10M without walking. Yeah, I know that's no great shakes, but to me it was significant.
By late summer, with our Boulder Peak accomplished, I started chatting with Carrie about doing the Half IM in Boulder in 2013 as a "Bucket List" item to cross off as the running life for me dwindles and I close in on 65 years of age. First, though, I had to see if my body could make it thru a half-marathon, a distance I hadn't attempted in 5 or 6 years. It wasn't pretty, especially my last 2+ miles of leg cramps, but we both finished the Rock Canyon Half in December. Two days later, having been afflicted with pain amnesia, we signed up for the Boulder Series.
Hence, the commitment to do our first Half-Ironman was made. It's so easy to register for a race online today, but now we had to train to swim 1.2M followed by a 56M bike and half-marathon run. As has been an eerie, consistent pattern in my life, once I sign up for a race, an injury often follows – usually real soon, too.
This time, though, it hit Carrie first, as she slipped and fell going down the stairs in our townhouse on Christmas night and broke 2 ribs. Now, if you've ever had a rib injury, you know how awfully painful they are. I felt so sorry for Carrie, who was suffering and unable to train for weeks. She would start crying from the pain and falling behind in the training schedule that she had meticulously developed on her "white board."
My turn came next. In early February, I signed up for the Spring Runoff 10M race in March, the Horsetooth Half-Marathon in April, and the Greenland 8M in May. I figured these would give me a good training base for doing the Boulder Half IM run leg. The following week I was on a treadmill doing a mini-speed workout ("speed" is a relative term for a turtle who was now 64 years old) and my left foot started hurting almost immediately.
It turned out I had 3 metatarsal stress fractures that would cause me to miss 3½ months of running, so I had to skip the 3 races I had registered for. Since any kicking in the pool hurt the foot, I began using a pull buoy so I wouldn't have to kick at all. Ascents on the bike required pulling up on the left foot but not pushing down. Wearing a post-op shoe for 3+ months got old. Walking barefoot on the PAC locker room tile was unpleasant. Like I said at the top, no one said life was easy.
Now, one thing about gel shots – they don't last forever. Six months is generally an in-the-ballpark shelf life, and my knee starting aching mildly again when I resumed running in June, more than 2 years after the first batch. But 3 more shots in June from Dr. Nakamura miraculously helped reduce that achiness. Thank you, modern medicine.
I got thru the Boulder Sprint with minimal preparation running/slogging, but the race wasn't kind to Carrie. She stepped on a stone running in the first transition and, although she finished the race without incident, she had suffered what X-rays showed was a metatarsal bone fracture.  I'm thinking these metatarsal things must be contagious for spouses. Healing fast thru the magic of a bottle of Zheng Gu Shui elixir, she returned fast and kicked butt in the Peak.
Now we had 3 weeks of final prepping for the Half IM, with only the first 2 of those to be hard weeks. In trying to train long or hard on four consecutive days, my body responded to age and whatever other condition afflicts me, probably overall physical lameness, and basically crashed and burned two weeks before the Half IM. I felt like I was run over by a bus, with the energy sucked out vampire-like and my muscles aching, especially both shoulders. Carrie, still feeling on-and-off misaligned pelvis effects from the fall way back on Christmas night, was unable to bend over.
I had no idea if I'd make it to the Half IM starting line on Aug. 4 until two days prior, when my energy level returned. Carrie knew she would start but figured her running would suffer. Amazingly, an hour before the start my shoulders felt better than they had in weeks. The race fuel was in place and the adrenaline was flowing. I knew the run would be tough in the heat and with my longest run in six months having been a 10-miler two weeks prior. But my plan was to run and walk, using a modified Jeff Galloway method. Carrie would walk at each aid station. My mantra at each mile was to get to the next mile. "You can do it, Gary. Get to mile 4." Then "Get to mile 5." Then "Get to mile 6." Etc.
Somehow, the deed got done, Carrie finishing in 6 hours and 46 minutes while I crossed in 7 hours and 31 minutes.  Tremendously uplifting was being cheered on by fellow Southern Colorado Triathlon Team members who were stationed in a tent near the 13-mile mark. It was a magic moment for me when, already well above the clouds knowing I would be finishing, I heard and saw the group and spontaneously veered off to the tent area and hugged Carrie, Stacey Diaz and whoever else was within arms' length. What a rush!
Now, there are degrees of "miracle" in this world. But, given what we had endured for months prior, I consider this accomplishment to be a miracle of sorts. Pain has been part of the process. But on Aug. 4, we overcame the obstacles and completed 70.3 miles. Others have accomplished more, and what we did was not extraordinary by modern endurance standards. But for us, two 60-plussers (Carrie's 60), it is a big deal.
If I have one message, I would tell everyone out there to attempt taxing events while you can because you never know when your body won't let you. Injury or debilitating physical conditions can strike at any time, so don't waste your chances!